Holmes and Associates, Inc. drives transformation of organizations and they are never the same again.  We work with senior executives and with operational teams to eradicate legacy patterns, improve culture, improve customer satisfaction, improve processes, reduce costs, engage employees.  Looking for Digital Transformation?   We have it covered.
Executive Coaching and Advisory Services
Running an organization of any size can be difficult.  Holmes and Associates Inc. provides coaching and advice to senior executives on a wide spectrum of topics.  We are routinely trusted by CEOs, CIOs, CFOs, government agency heads, Senior VPs.   
Our advisory topics may include leadership, dealing with subordinates, organizational design, strategy.  Clients tell us that we provide an objective sounding board for making difficult choices with high stakes.  Because we are impartial, our client executives trust that we will provide them with the unvarnished truth and help them navigate risky waters. 
Strategy and Planning
We will work with you to chart the right path for the organization.  We can engage at the highest level of the entire company or agency, or with a subunit, such as the IT organization, a division, or a department. 
Role:  We also can engage in different ways.  We can facilitate and advise, or we can lead and manage the planning effort. 
Methods: We have structured, systematic processes and proven tools.  Techniques include employee discussions and interviews, brainstorming sessions, workshops, data analysis, market research, and customer interviews. 
Timing:  We can work in short, intensive support efforts or in long-term engagements. 
What do you need to reach your goals?   We can help you get there.  
Organizational Change Management
Change is hard for most people.   Changing an entire organization is even harder. 
If you want to change results, you have to change the way the organization operates, change the culture, change attitudes, change processes, or change behaviors.  We are specialists in understanding the current state of an organization, dissecting the key stakeholders, and building a systematic program to move the organization where it needs to be.  We have deliberate models for driving change, proven workshops and team building programs, and techniques for overcoming resistance.  Most importantly, we listen well in order to develop an understanding and to develop valuable relationships. 
Digital Transformation
Automate processes.   
Streamline work.   
Implement new technologies.   
Develop strategic Digital Transformation plans. 
Let us move your organization into the future and change its path forever. 
High Performance Management System using Baldrige
Winning in business, or achieving an organizational mission requires teamwork across an organization across many dimensions.  The Malcolm Baldrige Performance Excellence Award provides the best framework for how all the parts of an organization need to work together to achieve excellence and true world-class performance.   This award was created in 1988 and is granted every year to the highest performing organizations in a competitive selection process.   It provides detailed guidance on 7 integrated areas that determine high performance: 
Leadership
Planning
Customer Focus
Measurements, Analysis, Knowlege Management 
Workforce
Operations and Processes
Results (are you getting where you want to go?)
Want to pursue a state or national award based on Baldrige?  Looking to be the best that you can be?   
Let us help you.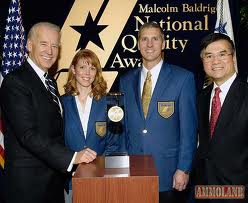 Customer Satisfaction Management
How do generate happy and satisfied customers?  
We employ a variety of structured techniques and skills building to turn unhappy customers into happy customers.   We focus on People, Process, and Technology and transfer these skills and behaviors to your internal staff.  
Cost and Financial Management, Modeling, and Optimization
So many service providers and some product organizations have little insight into the true costs and the driver of those costs.  This lack of insight can lead to distortions and very suboptimal financial results whether selling these products and services to outside customers, transfer pricing to internal customers, or just consuming an enterprise budget.   We can perform detailed and complex cost analysis and simulations, or provide rapid high-level analysis used for strategic planning and major decisions.   In either case, understanding what is really behind the numbers is key to achieving measurable business success.
Advisory services to CIOs and senior leadership of IT organizations.   
What is the problem?  We can usually solve it.